The beauty of working with Karya by Esposit
We introduced the philosophy behind our new line of office furniture and accessories (read the article here), but we haven't delved into the individual products yet. They are so special that they deserve a dedicated focus, and we want you to be fully engaged in reading about them.
Let's start with the basics: the desk, and its ideal complement, the PC stand.
Sure, we could work on any ordinary table, but let us reiterate: our goal is to make the workspace, whether it's an office, a home studio, or a co-working station, a stimulating and enjoyable environment. And here's why Karya desks and accessories make a difference.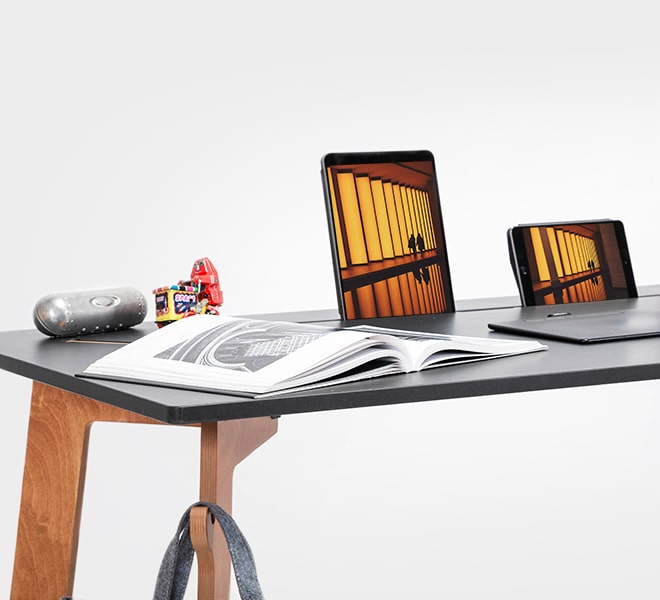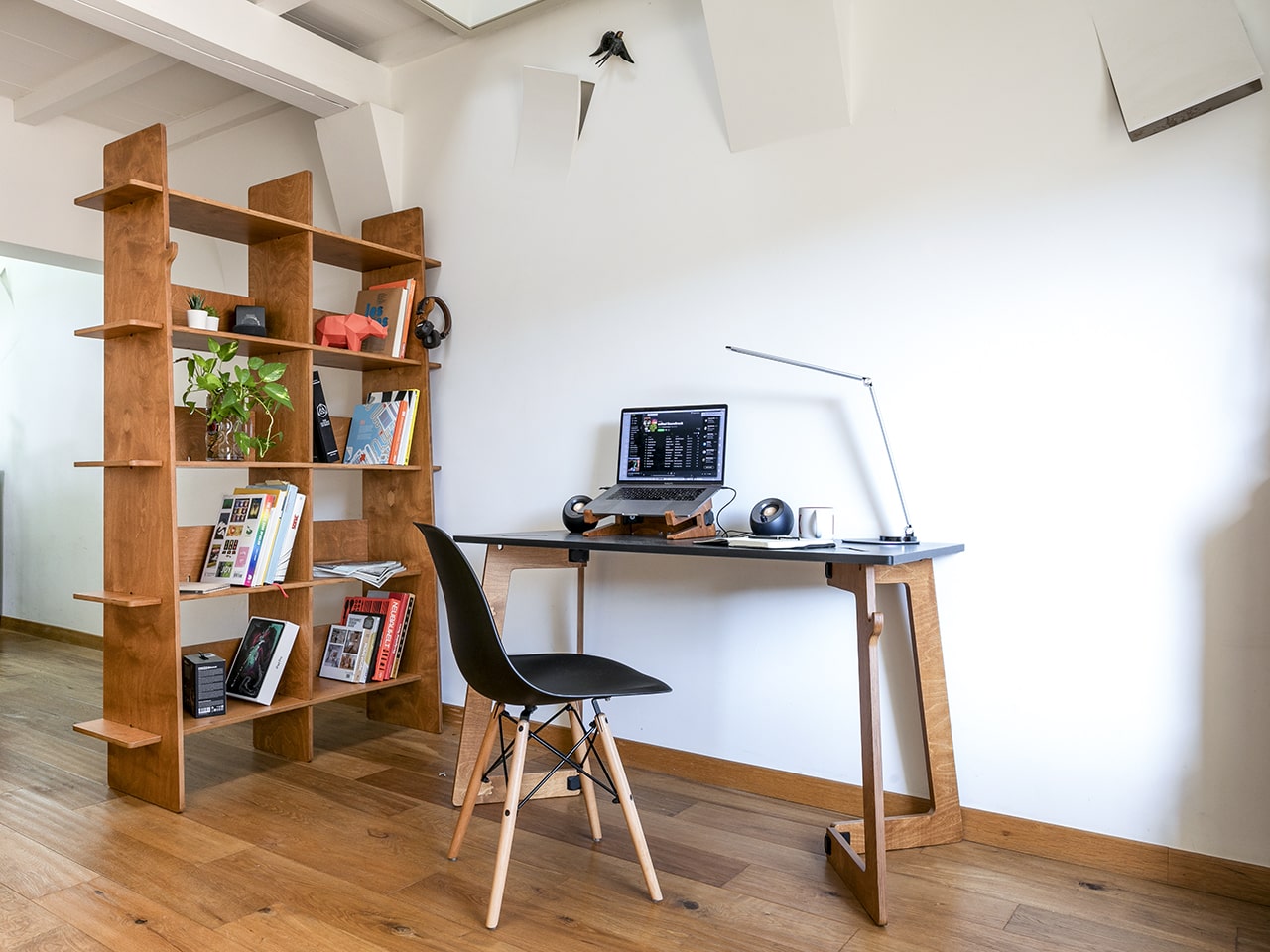 Karya: The Desk that Combines Quality and Functionality
If you think that a stylish desk can't be comfortable, the Karya desk will change your mind. With this desk, we have found the perfect balance between quality and functionality.
The minimal design is enhanced by small details that make it super functional:
The slot for electronic devices, where you can place your phone or tablet vertically or horizontally. No more precarious phone setups or uncomfortable positions to view the screen.
Cable management holes to keep everything tidy. Rest assured, there are enough of them for all our devices: computers, monitors, phones, tablets, graphic tablets—every cable in its place. Moreover, the slot keeps them hidden for a more elegant effect.
The convenient hook on the leg to hang backpacks, headphones, or bags. This way, everything is within reach and nothing is in disarray. It may seem like a small detail, but it simplifies life.
Functionality doesn't just apply to everyday use, but starts from the assembly itself: the desk arrives in a flat package and can be easily assembled in no time using interlocking joints and special Playwood plastic connectors, requiring only an Allen wrench.
The Karya desk is available in two sizes, small and large, because we deserve to work comfortably even if we don't have much space. However, if there are no such limitations, we can expand by joining multiple desks together. Thanks to its modular nature, Karya is perfect for creating work islands for teams. And if there are any changes within the team, no problem at all – it's lightweight and can be easily moved.
Of course, aesthetics matter too, which is why we offer different materials and colors. We even have an exclusive green version with natural, unpainted legs. Whether you prefer a white or black tabletop, the finish is always scratch-resistant, ensuring long-lasting durability over time.
Purchase it here with free shipping in Europe.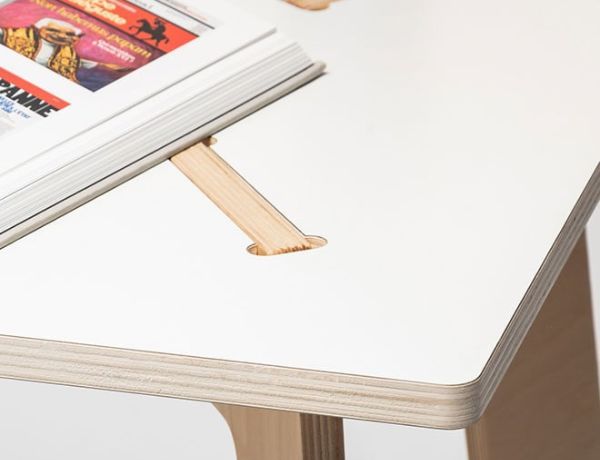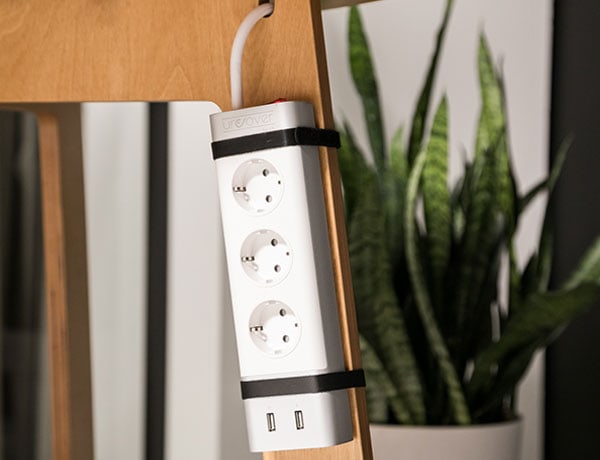 Up, the Made in Italy wooden laptop stand
We mentioned that with the Karya line, we aim to make the workspace enjoyable. That's why an ideal complement to the desk is Up, a laptop stand that provides a more ergonomic position by elevating the screen to an appropriate height.
In addition to achieving a better position, the space beneath the stand helps prevent the laptop from overheating and is useful for storing documents and notes. You can even store a keyboard underneath it when not in use.
Again, there's no need to worry about messy cables, thanks to the dedicated cable management holes.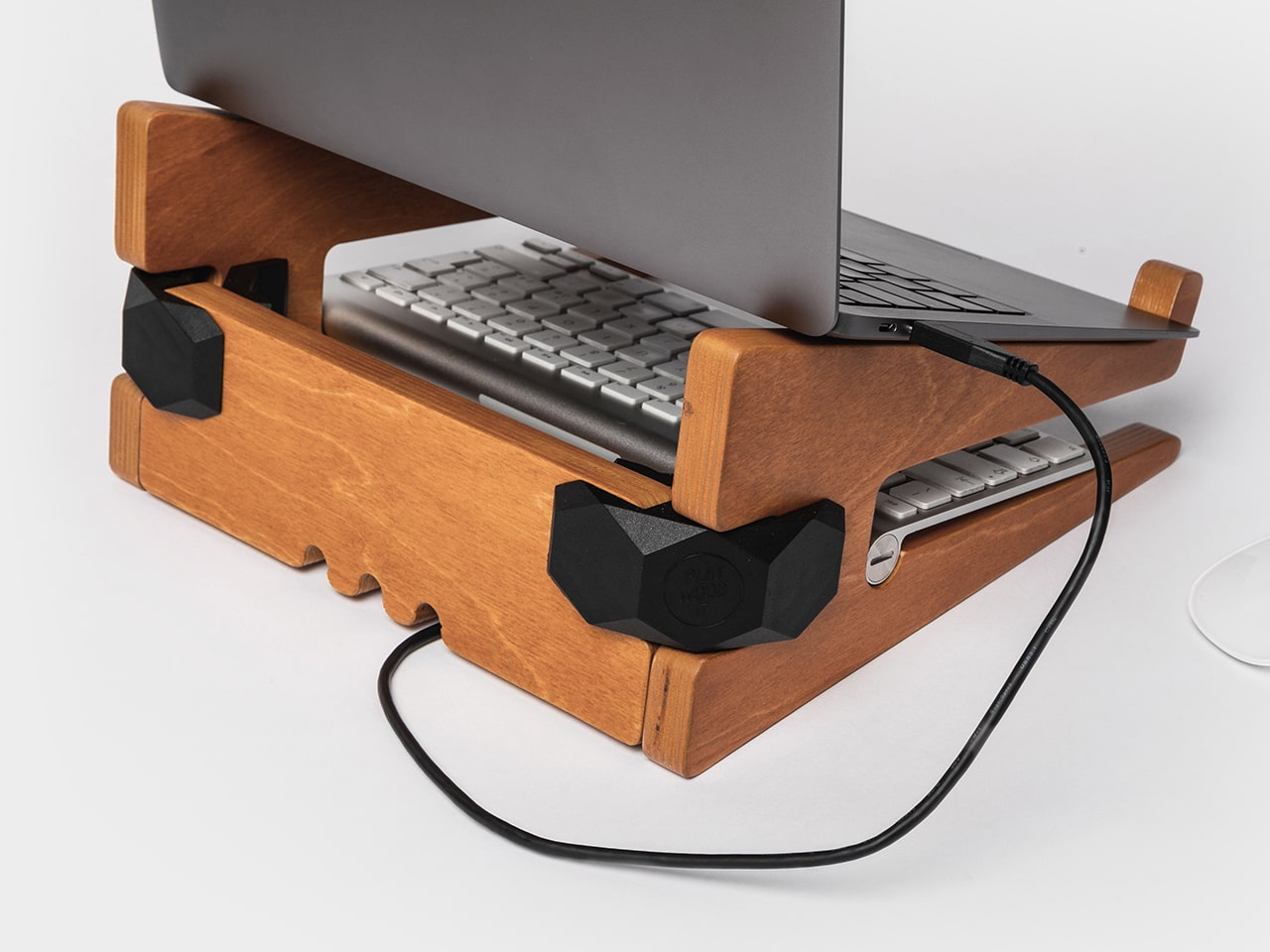 Harmony and design are not overlooked even for an apparently simple accessory. Up features a minimal and elegant solution, available in different colors that perfectly complement the Karya desks.
Up is also made using PlayWood connectors (yes, you can even pair it with your desk), making it easy to assemble and disassemble in an instant, and it's portable for your convenience.
Purchase it here with free shipping in Europe.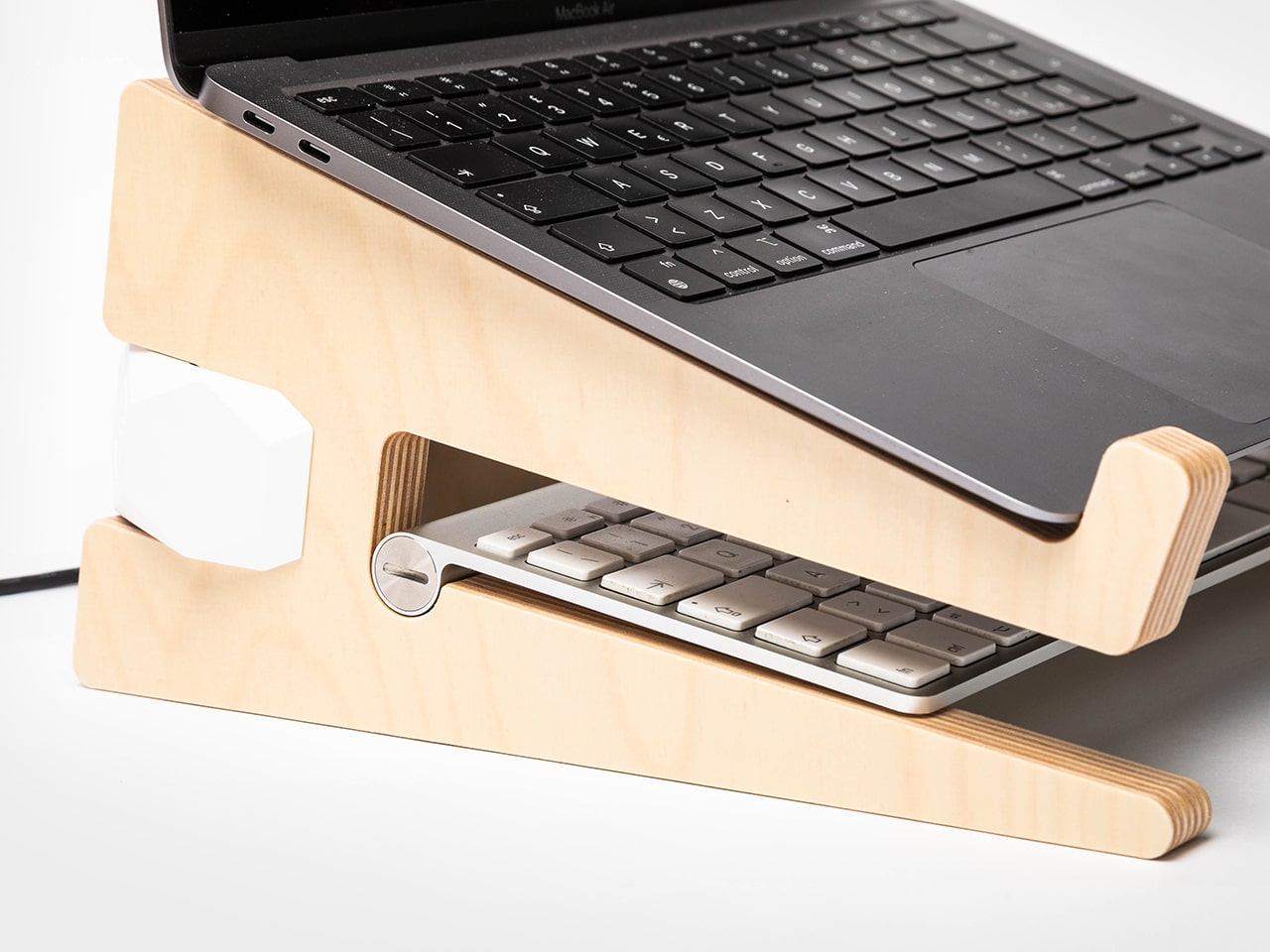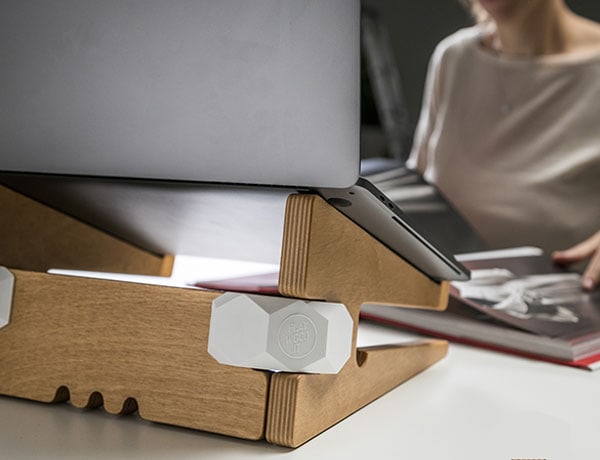 Lifty, the monitor stand with organizer
Continuing our goal of improving the working position and creating a harmonious space, we have designed Lifty, a monitor stand that helps maintain an ergonomic position in front of the screen while also providing a perfectly organized space for keeping essential items within reach.
There's room for your phone, tablet (and their respective cables), as well as pens and notes—everything finds its place, including your reusable water bottle (because we hope you're as environmentally conscious as we are).
Of course, assembly is simple thanks to the PlayWood connectors, and you can choose from three different versions.
Purchase it here with free shipping.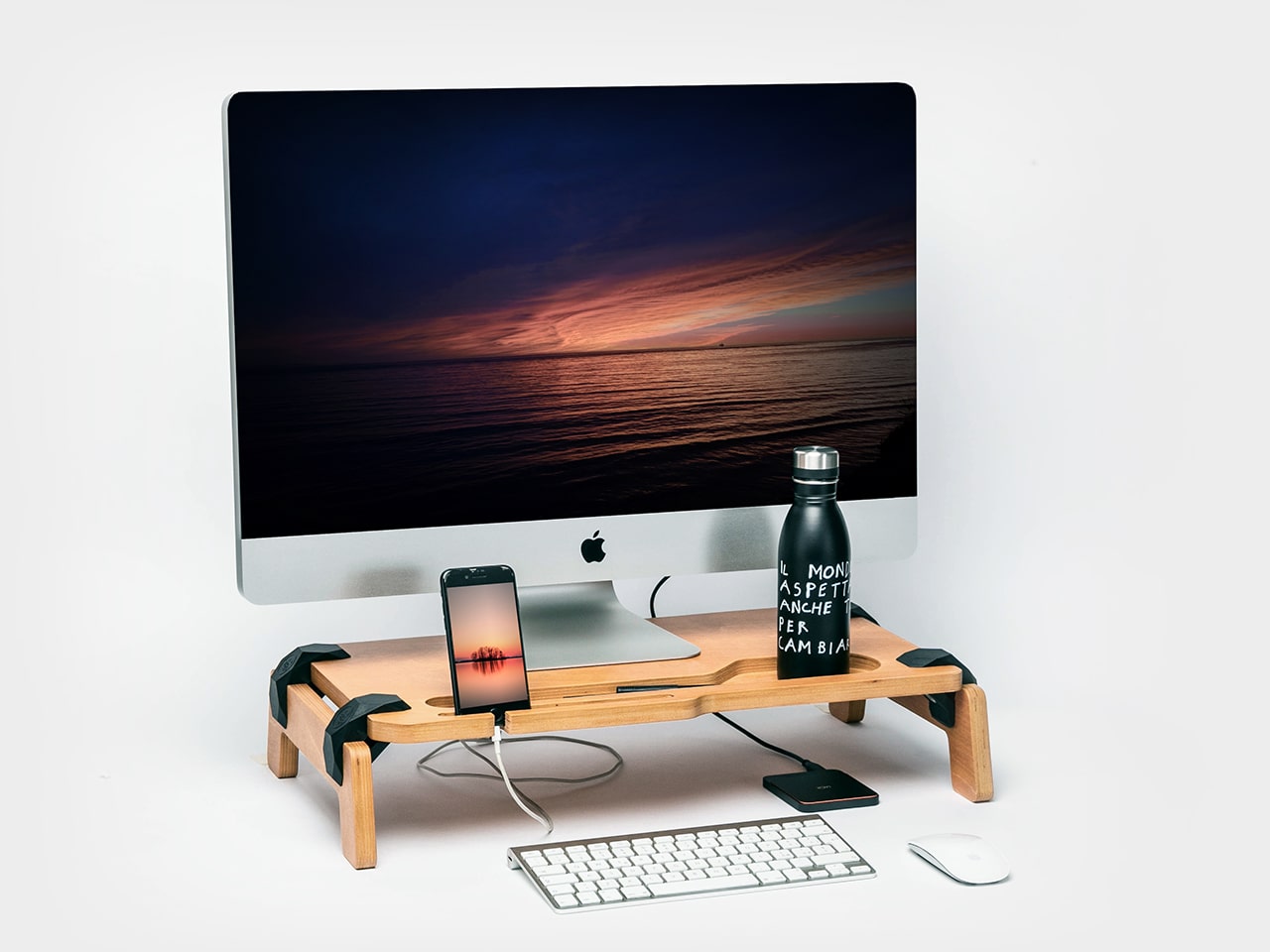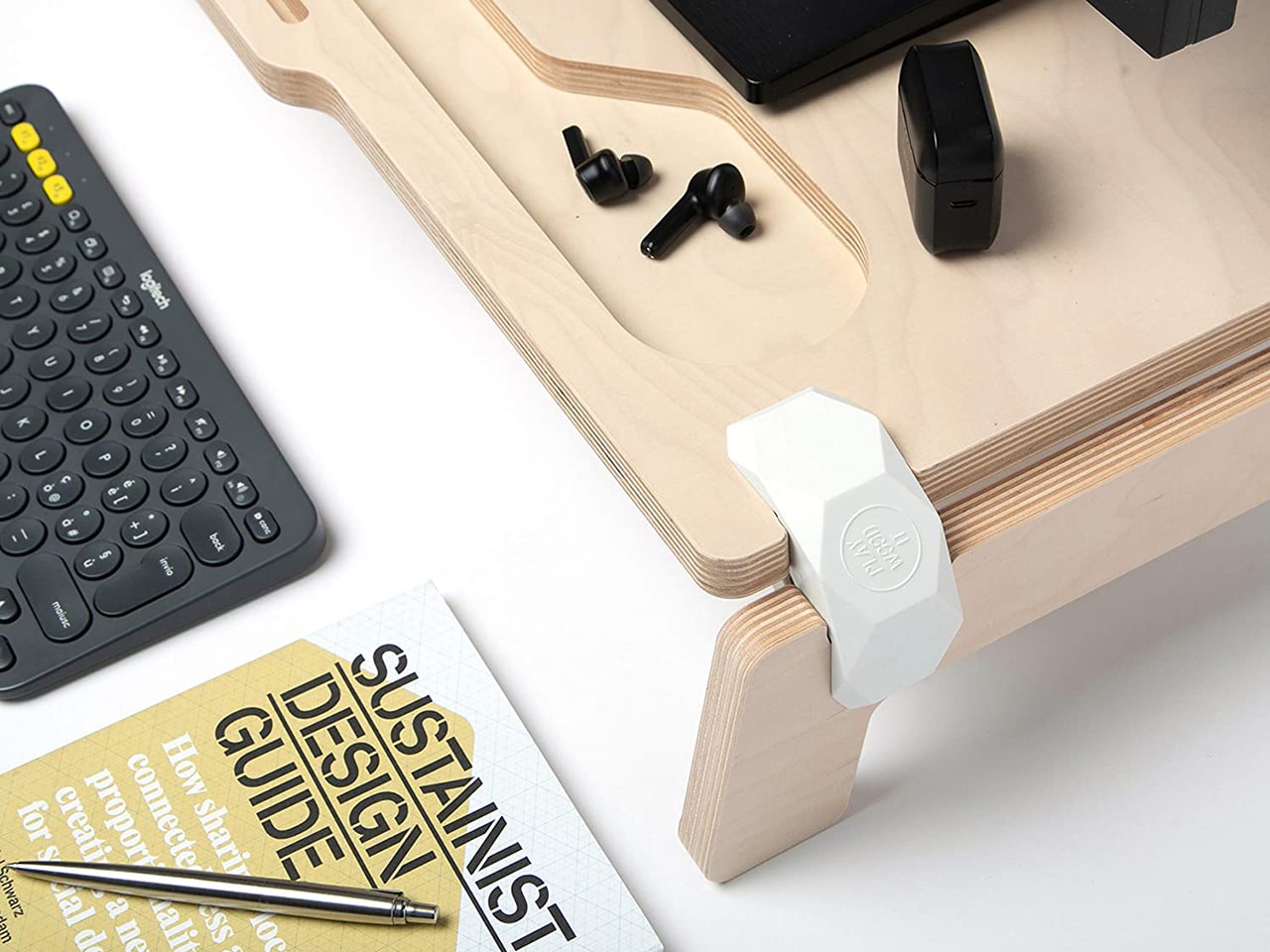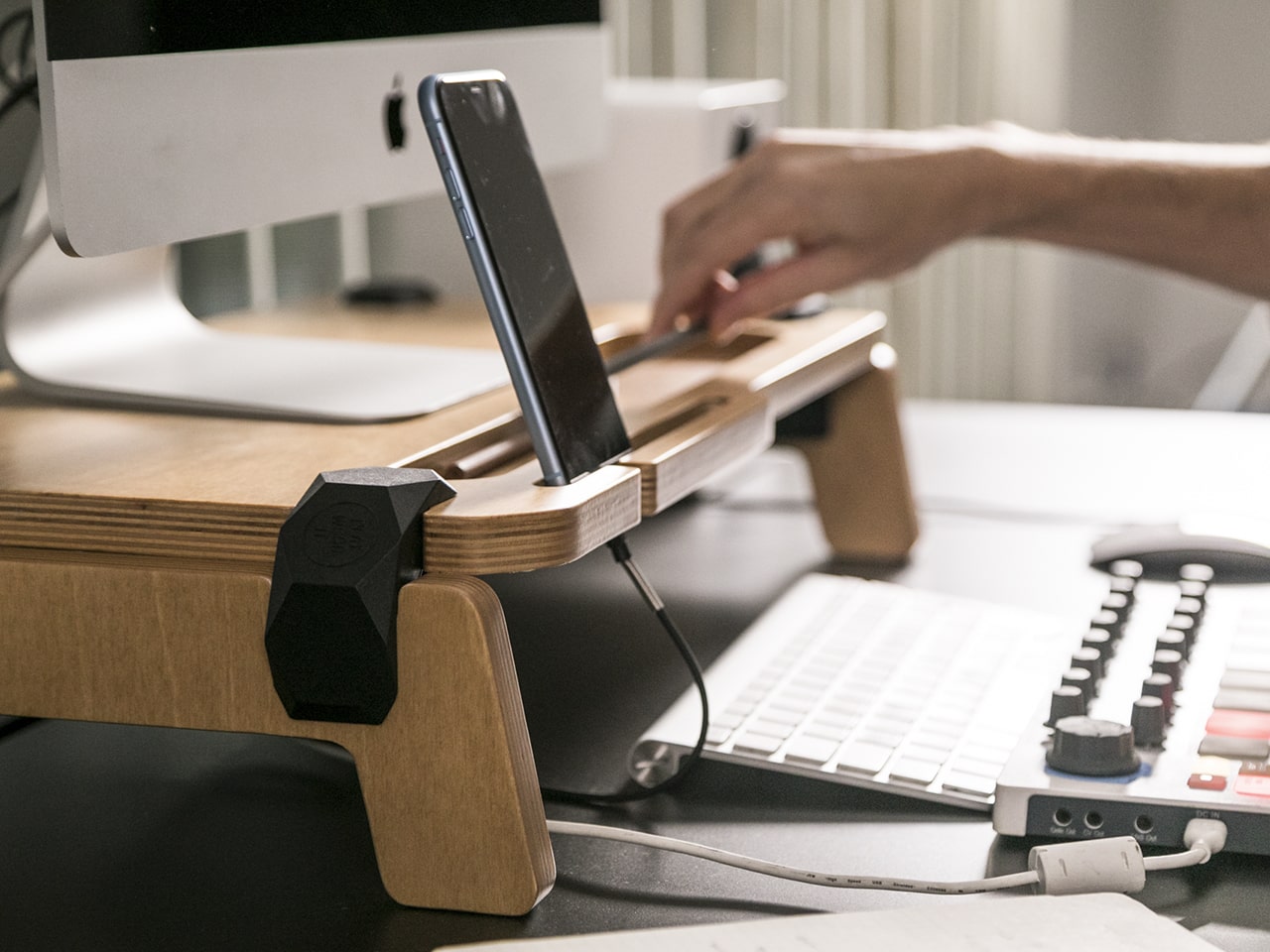 Now that you're seated at your desk in the correct position, thanks to our accessories, continue to follow us to discover the other office furniture pieces from the Karya Esposit line, which you can find  here.