One space, many events: what it means to set up an educational center that looks to the future
The versatility of our interlocking furniture is perfectly expressed in the project realized with the Fondazione Cassa di Risparmio di Cuneo for the Rondò dei Talenti, a multifunctional space that was born from the renovationtion of the building that historically housed the headquarters of the Cassa di Risparmio.
A work linked to the territory, which is also ours, at the service of its inhabitants, especially the younger ones. A project carried out with sustainability and with an eye to the future. In short, a challenge that we have accepted with pleasure.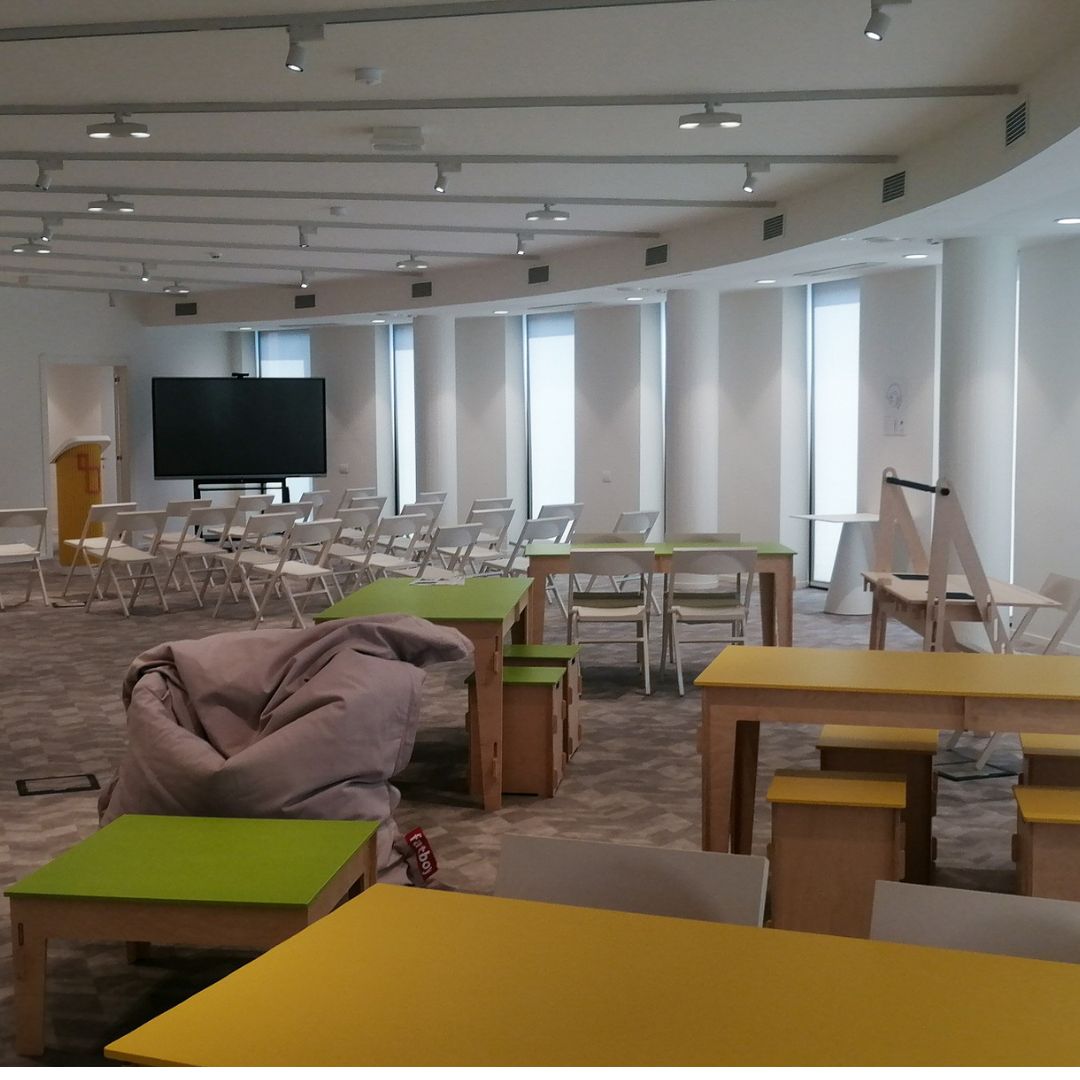 Multifunctional environments
The Rondò dei Talenti was conceived as an educational center, a place where to hold educational events, workshops, training courses and in general to promote knowledge.
The structure consists of different multifunctional areas available to entities and associations, with a classroom for holding courses and workshops and a relations space, for conferences, events, workshops.
These spaces are equipped with the most modern multimedia and digital technologies and can accommodate many types of events, each with specific setup requirements. So versatility is the mantra that we kept in mind in furnishing the spaces.
Versatile furniture
To set up, free up, quickly modify the rooms for each different occasion, the furniture elements must be light and manageable.
Our interlocking furniture by its nature perfectly meet these requirements, being able to be assembled and disassembled quickly without the use of tools, to facilitate the setup even for those who are not exactly professionals. Moreover, once disassembled they take up very little space, without the need for huge warehouses to store what is not used during a certain event.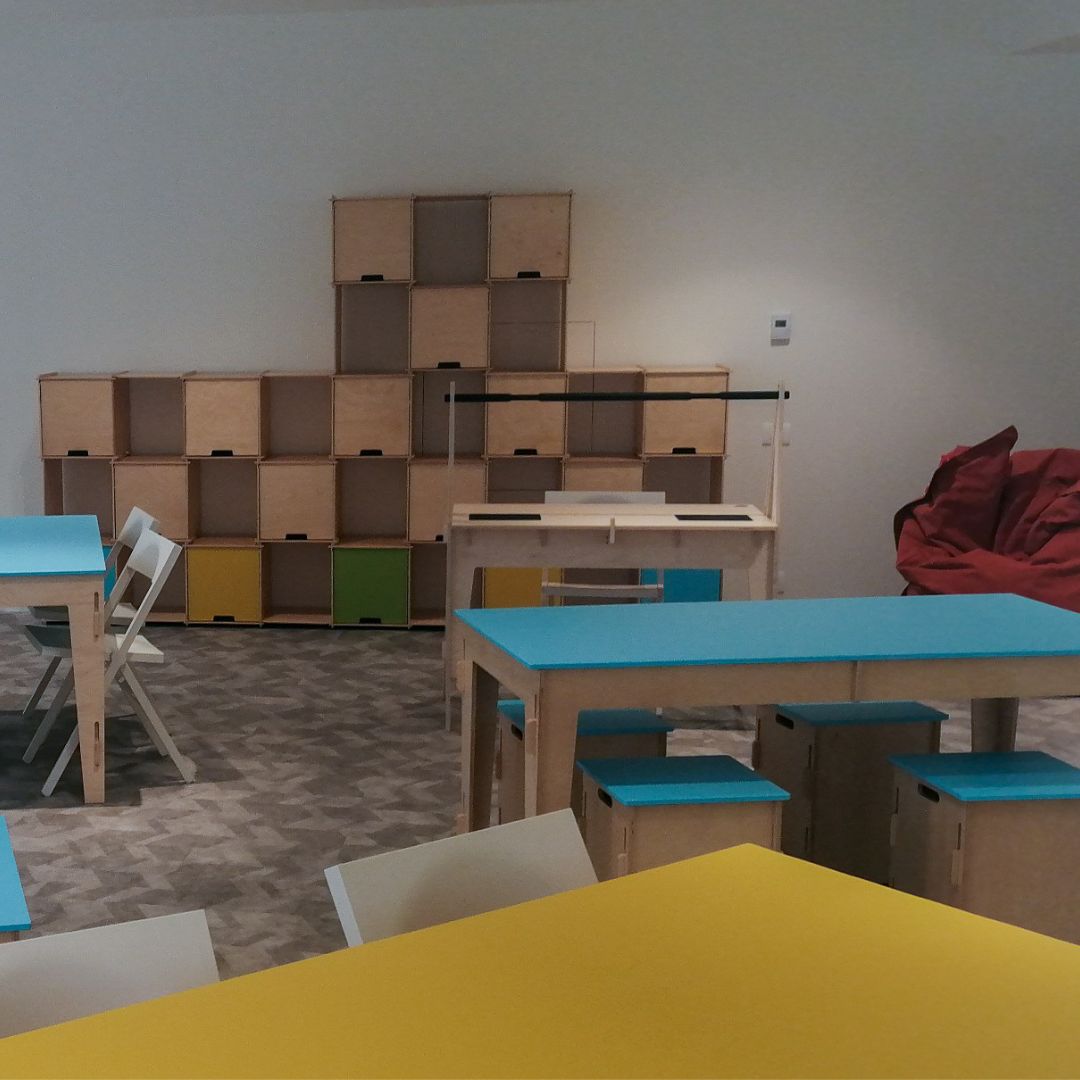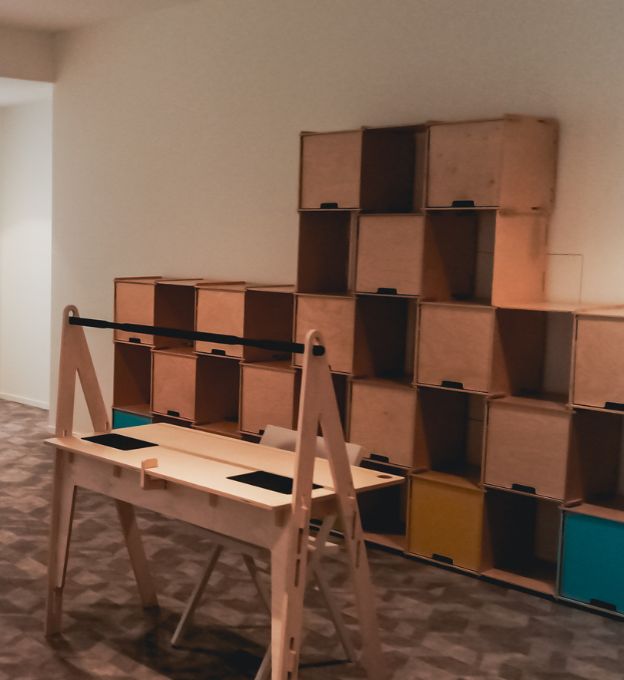 Even the appearence is important
Of course functionality is not everything: in such an important project with values conveyed also through architectural choices, the furniture must be consistent with these ideas.
Esposit furniture is made exclusively of wood, for this reason it gives a warm feeling to the environment, even to the highly digitalized ones like the classrooms of the Rondò dei Talenti.
A union without contrasts between past and future, like the one that characterizes the building that houses this educational center and moves the dialogue between the generations that confront each other in knowledge.
From the catalog to the room
So far we have left out another important element that characterizes our setup for the Rondò dei Talenti: the furniture is all in the Esposit catalog. In particular, the products used for the rooms are the Scacco Matto modules, the Casattava desk, the Tango Maxi and Tango Mini tables and the Cubotto seats.
This is the first time we have used furniture from the catalog in an exhibition and educational space , without any need for customization. This is the demonstration of the versatility of Esposit furniture.
Have you ever furnished multifunctional spaces? What are the main criticalities from your point of view?