Nature meets the design
Plants and flowers, there is nothing more natural than that. But in addition to creating a space of green in our homes, these furnishing accessories make spaces more beautiful and complete, especially if they are refined and original solutions like those of Flor Maison.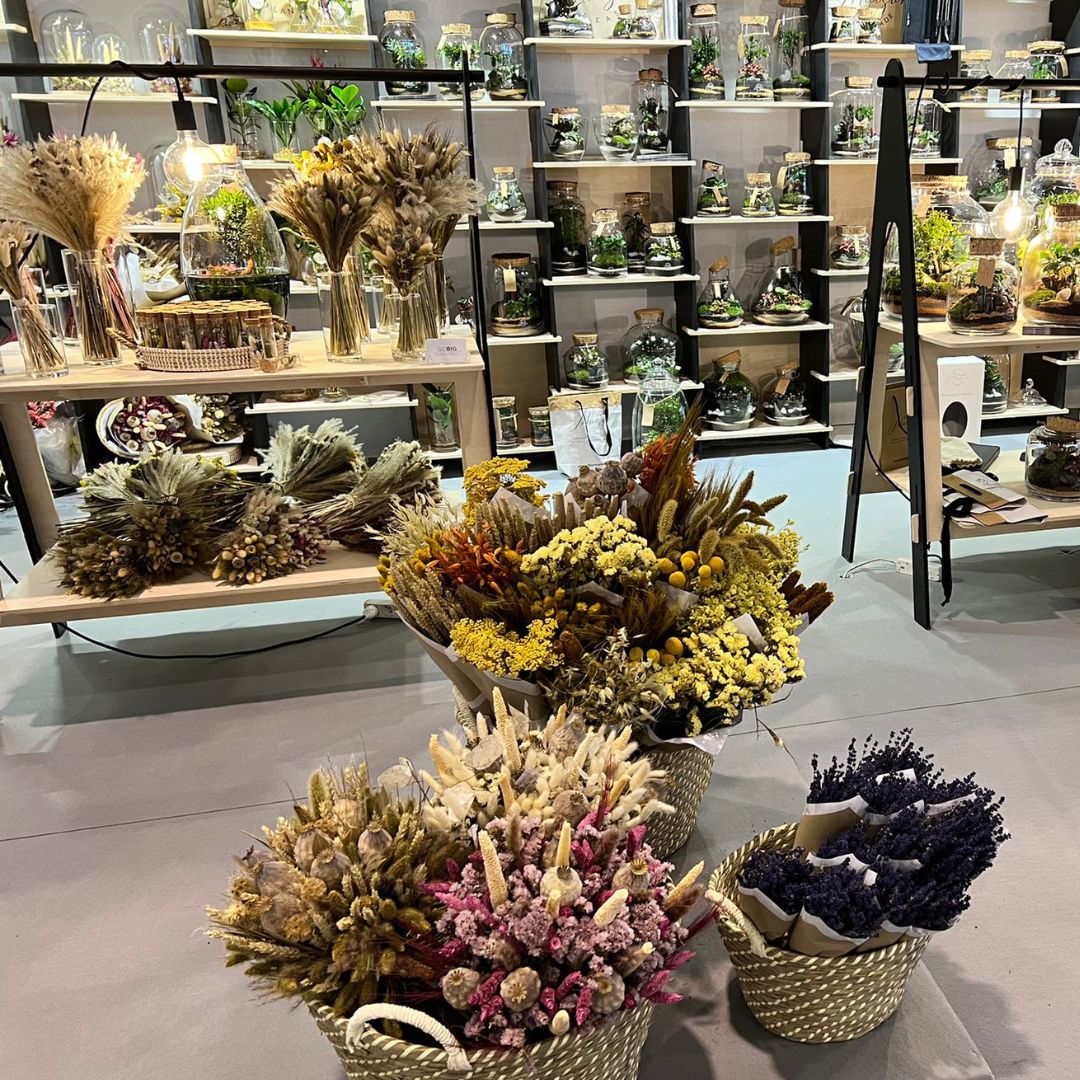 Miniature landscapes
Flor Maison is a company born from a young couple of former nurserymen with a love for the environment and landscapes, which materializes in their terrariums. These small ecosystems are almost entirely self-sufficient and represent real miniature landscapes, often inspired by the Langhe, the territory where Flor Maison was born (and where we were also born…). Flor Maison's terrariums and other products are elegant objects with refined design, a feature that stands out on every occasion, both during trade fairs and in the point of sale.
Young, beautiful, expanding
Thanks to its unique product, Flor Maison is a company in great expansion that is making important investments, but being still young, it needs to optimize the costs of logistics and transportation with internal staff. However, optimizing does not mean giving up its elegant identity, as demonstrated by the project of the exhibition for trade fairs and points of sale.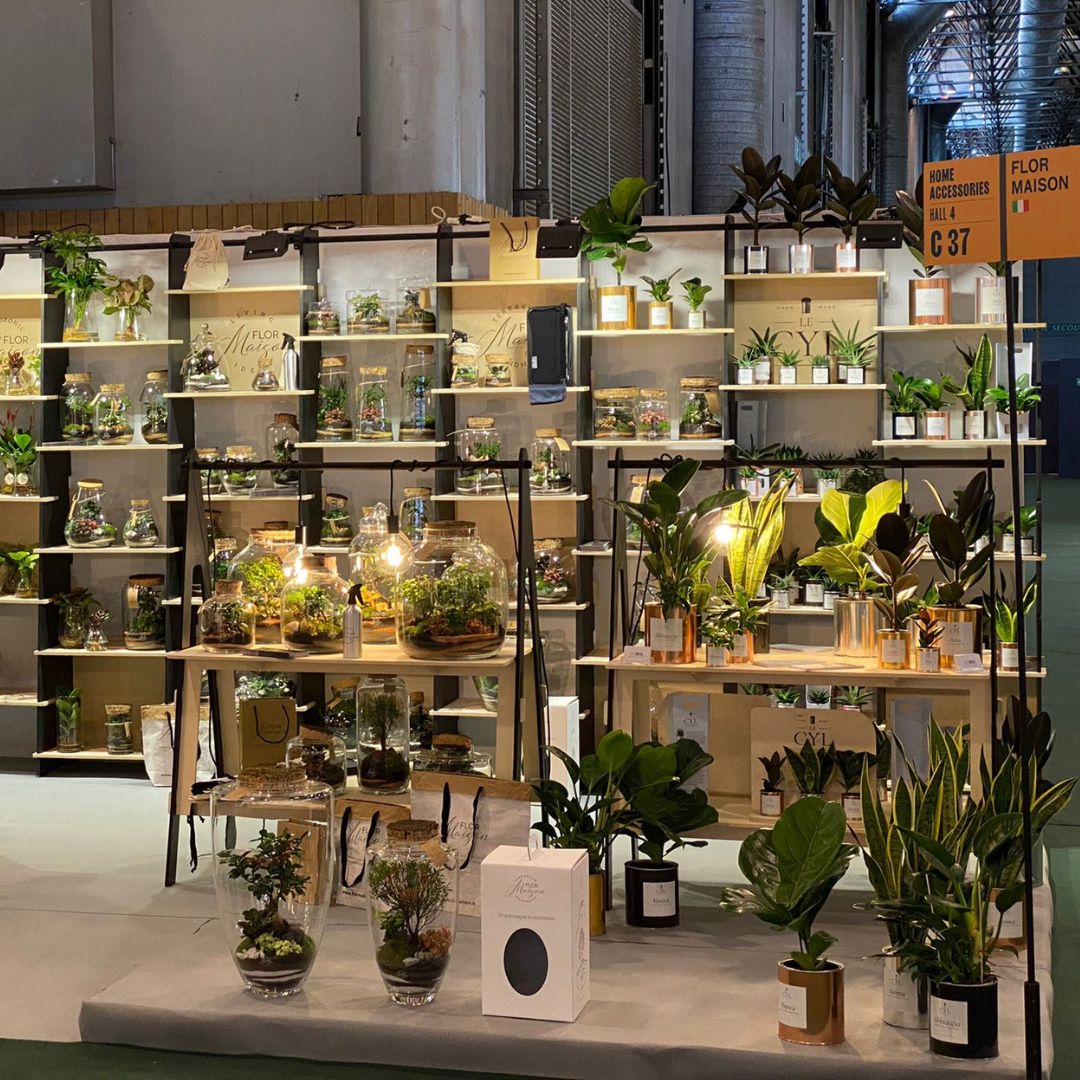 Strong and refined displays
In Flor Maison's products, we find the combination of the plant and flower sector with home decor and design, which is why they take part to many trade fairs. Among those that the company has attended are Homi (furnishing accessories – Milan) and Maison&Object (interior design – Paris).
It is therefore clear how real the need for logistics optimization is, as well as the need for displays capable of conveying the refinement of the brand and the product, which, however, has a peculiarity: size and weight. In fact, even if the landscapes are miniatures, many products are large in size, with glass bowls up to 50 cm in diameter containing soil, stones, and plants.
Modular from the fair to retail.
They needed displays that were adaptable to the spaces of the different trade fairs, easy to assemble, elegant, designed for a particular product, and resistant to its weight.
With these needs in mind, we have created two types of display:
A self-supporting interlocking wall, 6 meters long and 2.30 meters high. Despite its imposing size, this wall is modular and, above all, easy to assemble even by internal staff. In addition, thanks to the arrangement of the shelves, it allows for a really large exhibition area.
Central islands, made with interlocking wooden tables. The terrariums are handmade, and seeing the product from all sides allows for a better appreciation of the uniqueness of these miniature landscapes. The upper part of the display table has a greater height and is designed for the most bulky pieces, while the lower shelf accommodates the lower plants or accessories.
In addition to discovering the product, buyers who enter the Flor Maison booth find complete solutions for retail stores because the furniture can be purchased in part to set up monobrand corners in stores. This ensures a consistent presence for the brand in different points of sale.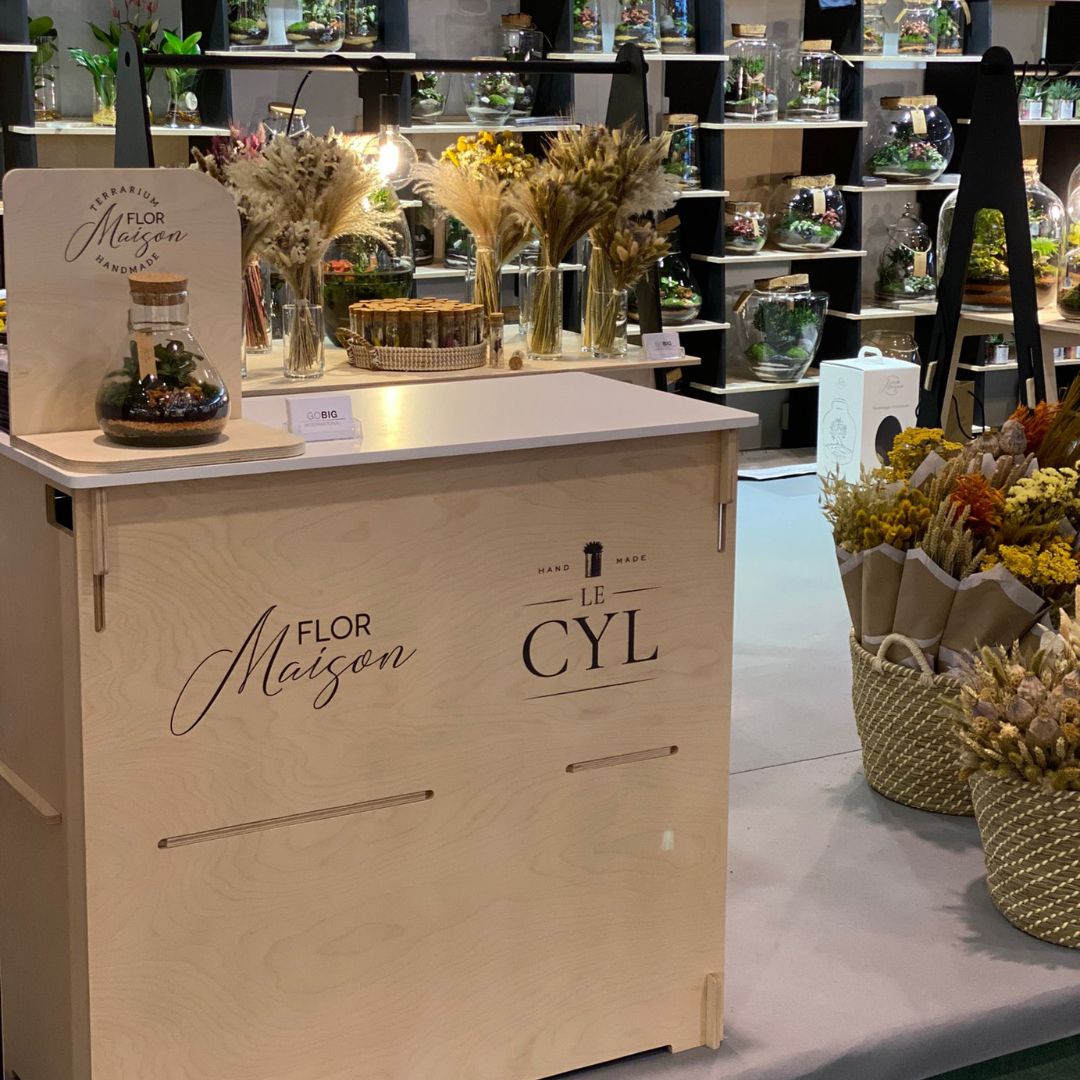 A wooden future
Flor Maison has chosen wood and interlocking as a model of natural furniture for its products, a choice that does not stop at exhibitors, but also characterizes the line of garden objects that we are designing together.
Certainly, the combination of plants and wood is intuitive, but what do you think of this material for the construction of stands and displays? Do you think it is ideal only for certain product, or is it more universal (as we believe)? Let us know.
And if you want to know more about what we did with Flor Maison, here you can find the display wall solution and here is the display table.